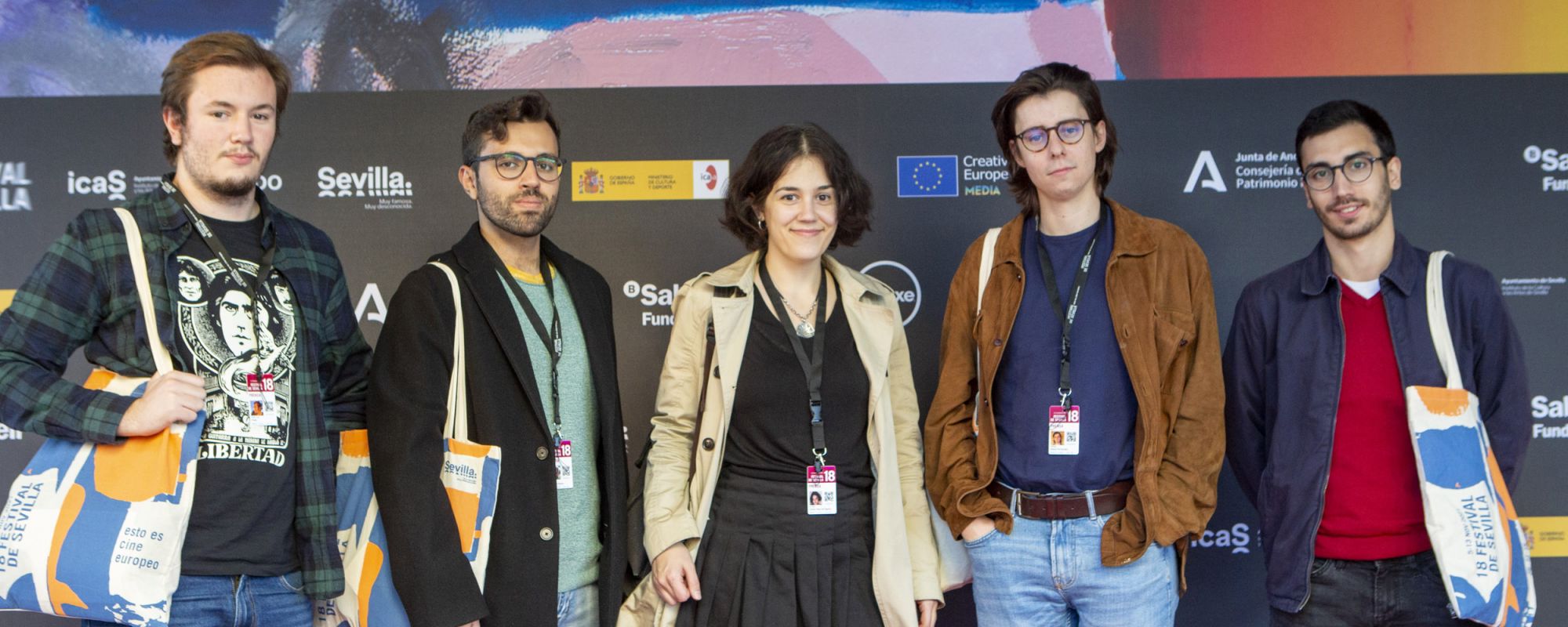 MIOB New Vision Award 2023 goes to Icelandic Beautiful Beings


OPEN CALL | LAB OF CULTURAL, CREATIVE AND FESTIVAL JOURNALISM
The European Festival Network MIOB pioneers a specific action dedicated to students and graduates in Cinema and/or Journalism as well as to young people from any other area who are interested in cultural media and film. The LAB OF CULTURAL, CREATIVE AND FESTIVAL JOURNALISM seeks to form a community of future cultural journalists. The lab will be held at Sevilla FF (Spain), Les Arcs FF (France) and Trieste FF (Italy), with prior online training addressed to all participants.
2º LAB of cultural, creative and festival journalism is an initiative organised by the European Festival Network MIOB. It is a project financed jointly by the European Union within the framework of Film Festivals networks action and it is free for the selected grant-holders.
We are convinced that the quality cinema, the cinema in which we believe in and that we promote, should be appreciated through analysis, thought and discussion. Auteur cinema cannot be understood without film critic and cinema journalism, since these genres have systematically contributed to highlight and understand the constant changes of cinematographic art. Despite the difficult moment that cinema journalism is going through, we are aware that there is a new generation of critics and cinema journalists who have their own way of writing and expressing themselves in a totally different way than their senior colleagues. By doing this, we would like to promote these new voices, offering them the opportunity to attend European events. As festivals, we also need the talented people we bring to our cities to express themselves and have visibility in the traditional media and on the Internet. The main goal is to promote training of journalists specialised in culture, who can benefit from a tutored, tailor-made training with top-level specialists in cultural journalism and who can experience field-work at a film festival. It is a unique and concrete opportunity to support future cultural journalists.
We are looking for up to 18 young Europeans who are keen to learn journalistic resources focused on the cultural field, especially on cinema. This lab combines online training, with 5 previous training sessions (that will cover aspects such as the empathic interview, the creative critic, the documented article / report, digital / audiovisual journalism, how a press department works in a film festival, among others) and face-to-face practical training at the Seville European Film Festival, Les Arcs Film Festival and Trieste Film Festival.
The selected participants will create content for the festivals and for MIOB websites, with interviews to film crews, articles and any other proposal the festival or the selected candidates may have. The articles, once their quality standards are reviewed, will be uploaded to the attended festival website and to the MIOB website. 2nd Young Cultural Journalists LAB will cover the costs of travel, accommodation, subsistence allowance and festival accreditation, thanks to the Creative Europe Media Programme grant.
The 2nd edition of the LAB OF CULTURAL, CREATIVE AND FESTIVAL JOURNALISM will be held in the season 2022/2023 at the Seville European Film Festival (November 2022), Les Arcs Film Festival (December 2022) and at the Trieste Film Festival (January 2023). ONLINE training sessions: 5 training sessions with top-level experts in European cultural journalism. They will be held the last week of October 2022. All participants will attend these sessions.
FACE-TO-FACE programme: Participants will be divided into three groups in order to ensure a good follow-up of each participant in the workshop. Each group will attend one film festival:
19o Seville European Film Festival: 6 days, 5 nights between 4 - 12 November 2022
14o Les Arcs Film Festival: 6 days, 5 nights between 10 - 17 December 2022
34o Trieste Film Festival: 6 days, 5 nights between 21 - 28 January 2023
Registration is free.
REQUIREMENTS
● Legal age under 30 years old.
● Passion about cinema and culture.
● Hold a university degree or be a university student.
● No more than 5 years should have passed since obtaining a university degree.
● Fluency in English (written and spoken).
● Provable experience in cultural articles, especially film-related articles (in any format:
print, video, audio or online media) or any creative form of a daily report. We will also accept any provable experience in Q&A's in festivals or cinema events.
REQUIRED DOCUMENTS
● Motivation letter
● Current CV (in English)
● A recommendation letter from an institution where you have studied, worked or
collaborated with (company, university, festival, cultural institution or association...), if
applicable.
● 3 pieces (written, audio or video) of recent work.
The final selection will be announced in early October 2022. The selection will be made by a committee that will include the lab coordinator, journalist Alfonso Rivera, and a representative of each festival (Seville, Les Arcs and Trieste).
Open call is valid until 30th of September: APPLICATION FORM